This list provides common medicinal plants in the
Philippines
. There are many other Philippine
medicinal plants, herbs and trees found in the country but are actually rarely used as herbal
medicine. These are the more widely used and popular medicinal plants:
Akapulko
Akapulko / Acapulco (Cassia alata)
Akapulko or Acapulco in English is a shrub found throughout the Philippines. It is known under various names in different regions in the country. Locals call the plant katanda, andadasi, and palochina in Tagalog, Ilocos and in the Visayas regions, respectively. The shrub belongs to the family ofLeguminosae, and grows about one to two meters tall. It has thick branches and the leaves are embraced with 8 to 20 leaflets that are oblong-elliptical in shape. The flowers of the Akapulko have oblong sepals, and its fruits are tetragonal, which are also winged and glabrous. A medicinal herb that contains chrysophanic acid, a fungicide used to treat fungal infections, like ringworms, scabies, and eczema. Akapulko also contains saponin, a laxative that is useful in expelling intestinal parasites.

The primary part used for herbal purposes are the leaves, although the roots and flowers are also used for certain preparations with medicinal value. The extracts from the Akapulko plant is commonly used as an ingredient for lotions, soaps, and shampoos.
Benefits & Treatment of Akapulko:
Treatment of skin diseases:
Tinea infections, insect bites, ringworms, eczema, scabies and itchiness.
• Mouthwash in stomatitis
Expectorant for bronchitis and dyspnoea
• Alleviation of asthma symptoms
• Used as diuretic and purgative
• As a laxative to expel intestinal parasites and other stomach problems.
Note: A strong decoction of Akapulko leaves is an abortifacient. Pregnant women should not take decoction of the leaves or any part of this plant.
Preparation & Use:
• For external use, pound the leaves of the Akapulko plant, squeeze the juice and apply on affected areas.

• As the expectorant for bronchitis and dyspnoea, drink decoction (soak and boil for 10 to 15 minutes) of Akapulko leaves. The same preparation may be used as a mouthwash, stringent, and wash for eczema.

• As laxative, cut the plant parts (roots, flowers, and the leaves) into a manageable size then prepare a decoction Note: The decoction looses its potency if not used for a long time. Dispose leftovers after one day.

• The pounded leaves of Akapulko has purgative functions, specifically against ringworms.
It should be noted that the pounded leaves of this plant may be applied thinly on the affected part twice a day. Marked improvement may be expected after two to three weeks of continuous application to the affected area(s) where the prepared Akapulko leaves were applied.
Ampalaya
Herbal Medicine: Ampalaya (Momordica charantia)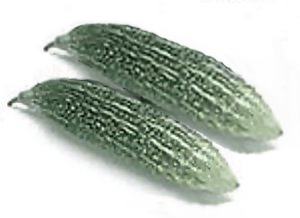 Ampalaya (Bitter Melon) with a scientific name Momordica charantia, is a climbing vine and the tendrils of which grow up to 20 centimeters long. This herbal plant belongs to the family of Cucurbitaceae, and it is a tropical as well as a subtropical vine. Ampalaya leaves are heart-shaped, which are 5 to 10 centimeters in diameter. The fruits of the ampalaya vine are fleshy green with pointed ends at length. It can never be mistaken for any other variety because its ribbed and wrinkled surface had always been ampalaya's distinct physical structure. The bitter taste of the ampalaya fruit had also been the distinguishing factor from the rest of the fruits with medicinal value, and this is due to the presence of a substance known as momorcidin.

Ampalaya has been a folkloric cure for generations but has now been proven to be an effective herbal medicine for many aliments. Most significant of which is for Diabetes. The Philippine variety has proven to be most potent. Ampalaya contains a mixture of flavanoids and alkaloids make the Pancreas produce more insulin that controls the blood sugar in diabetics. Aside from Ampalaya's medicinal value, it is good source of vitamins A, B and C, iron, folic acid, phosphorous and calcium.

Ampalaya has been for used even by the Chinese for centuries. The effectively of Ampalaya as an herbal medicine has been tried and tested by many research clinics and laboratories worldwide. In the Philippines, the Department of Health has endorsed Ampalaya as an alternative medicine to help alleviate various ailments including diabetes, liver problems and even HIV. Aside from these, ampalaya also helps treat skin diseases and cough. Its herbal value extends to increasing the sterility of women, in parasiticide, antipyretic, and has purgative functions, as well. Note: In large dozes, pure Ampalaya juice can be a purgative and abortifacient.
Herbal Benefits of Ampalaya:
• Good for rheumatism and gout
• And diseases of the spleen and liver
• Aids in lowering blood sugar levels
• Helps in lowering blood pressure
• Relives headaches
• Disinfects and heals wounds & burns
• Can be used as a cough & fever remedy
• Treatment of intestinal worms, diarrhea
• Helps prevent some types of cancer
• Enhances immune system to fight infection
• For treatment of hemorrhoids
• Is an antioxidant and parasiticide
• Is antibacterial and antipyretic
Preparation & Use of Ampalaya:
• For coughs, fever, worms, diarrhea, diabetes, juice Ampalaya leaves and drink a spoonful daily.
• For other ailments, the fruit and leaves can both be juiced and taken orally.
• For headaches wounds, burns and skin diseases, apply warmed leaves to afflicted area.
• Powdered leaves, and the root decoction, may be used as stringent and applied to treat hemorrhoids.
• Internal parasites are proven to be expelled when the ampalaya juice, made from its leaves, is extracted. The ampalaya juice, and grounded seeds is to be taken one spoonful thrice a day, which also treats diarrhea, dysentery, and chronic colitis.
Atis
Atis Fruit - Sweet Sop / Sugar Apple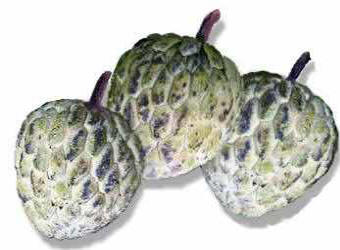 Atis Fruit Information
Atis is the Philippine name for Sweet Sop and Sugar Apple. Atis is a relative to custard apple and belongs to the Annona family. Atis is native to Central America, the Caribbean and northern South America. Atis was introduced to the Philippines during the Spanish times.

Atis is a small tree that grows between 10 to 20 feet high when fully matured with oblong leaves and green heart-shaped fruits with polygonal tubercles. The atis fruit has a white, sweet flesh and black seeds.

The Atis tree is easy to grow. Just plant a seed on almost any soil and atis will grow. However, it requires tropical or near tropical weather. When planted, Atis will begin to bear fruit in about a year's time. It will bear fruit about 3 times a year and the sweetest fruits are those borne during the summer months.
Atis Fruit Nutritional Value (edible portion)
| | | | |
| --- | --- | --- | --- |
| | | Vitamins & Minerals | |
| | | Ascorbic Acid (Vitamin C) | |

Toxic Properties of the Atis Fruit
All parts of the atis tree have medicinal value. The seeds however are poisonous. The seeds are pounded and made into paste. This can be applied to the scalp of the head to kill hair lice. Care should be taken when applying atis seed paste on the scalp as this is extremely irritating to the eyes and can even cause blindness. The paste when applied into the uterus can cause abortion.
Atis Use as Herbal Medicine
• A decoction (boiling in water) of the leaves induces or hastens menstrual flow and used to treat dysentery, colds and fever. The decoction is also used for bathing to alleviate rheumatic pain.
• Crushed leaves are inhaled for dizziness and fainting.
• The bark of the atis tree is used as a decoction for diarrhoea.
• The root is a strong purgative and used to treat dysentery.
• Infected insect bites can be cured by applying the juice from an unripe atis fruit.